Trachten, Dirndls, Blouses and Skirts from Germany
Since 1978, International Fashions by Ingrid has specialized in fine women's apparel imported from Europe and from around the world. We carry beautiful imported clothing ranging from sweaters, to lace-trimmed blouses, fancy dirndls and traditional loden overcoats. Most items feature lovely details like embroidered edelweiss, delicate lace, rhinestones or ornate buttons.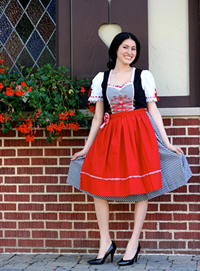 Traditional and Contemporary Designs
We stock a large selection of traditional items as well as contemporary designer lines from New York, Montreal and Germany. Available brands include Ursl Trachten, Sommermann, Freya, Hammerschmid, and others. To complete an outfit, we also offer complementary lines of jewelry and accessories such as silk scarves.
Personal Service
At International Fashions by Ingrid, you'll receive attentive, expert service in an atmosphere where you can feel at ease. Our experienced staff can recommend items that best suit your style, or they can help you find that perfect gift. We are also experts at helping husbands and boyfriends through the mysterious world of women's fashion. If you prefer to have a personal experience while shopping, and you are looking for well made clothing that will last, visit International Fashions by Ingrid.