Shop for Trachten, Dirndls, Blouses and Skirts from Germany
Visit Us Today! International Fashions by Ingrid is located in the heart of Lincoln Square, on the corner of Lincoln Avenue and Leland in Chicago. We are easily accessible by car and are just a block away from the Western Avenue station on the Ravenswood Brown Line "L." Enjoy a day of shopping in Lincoln Square and visit our store for fine quality women's fashions in traditional German and contemporary styles.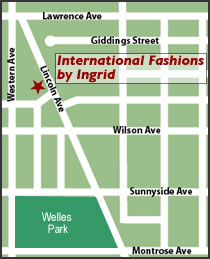 International Fashions by Ingrid
4714 N. Lincoln Avenue
Chicago, IL 60625
773.878.8382
Hours
Monday through Friday - 11am to 5pm
Saturday - 10am to 5pm
Please call us at 773.878.8382
Parking
Lincoln Avenue has limited meter parking available on the east side of the street. There are also two city parking lots within close proximity to the shop that offer meter parking. The closest lot is on the opposite side of Leland, at the corner of Leland and Lincoln. If that lot is full, there is another lot at Leland and Western.